The tech startup world is all about amazing new technology, innovation, and Intellectual Property (IP), things that create "barriers to entry" for other companies and give you a "sustainable competitive advantage". Dharmesh Shah and Brian Halligan, co-founders of HubSpot, have just released a new book Inbound Marketing: Get Found Using Google, Social Media and Blogs. The premise of the book is that Exceptional marketing can be a formidable barrier to entry. This is revolutionary thinking for those of us in the high tech world and venture investors. Of course it shouldn't be. If we got out of the technology bubble for a while we would see that successful consumer products companies are all about great marketing.
Dharmesh explains below how VC investors and most startup entrepreneurs think about technology and competition.
For those of you that are new to the investor game (which is usually where the phrase turns up), "barrier to entry" is loosely defined as that thing which makes it hard for competitors to enter your market and reduce your profits.  In most cases, when VCs ask a startup about barriers to entry, the response usually falls into one of two categories:

Type 1:  We're doing something that is so hard to do that few others can do it.  This is usually manifests in the form of some intellectual property (IP) like source code.

Type 2:  We've got exclusive/proprietary access to some important resource that others can't get to.  This could be in the form of some product integration partnership (like bit.ly has with Twitter).
Many tech startups build products that make things more efficient, essentially the mantra is "cheaper, smaller, faster, better". In most cases the reality is that a reasonably smart team of engineers could reproduce the product/service in a relatively short period of time. So, how does such a company stay in business and become successful? The tech world has an obsession with "shiny new objects". We get excited about new things that do things in a new way. As long as the company keeps developing new "shiny objects" every year the customers keep buying. Most startups fail to keep up. So, what to do?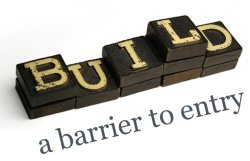 Build a barrier to entry with Inbound Marketing. HubSpot is all about Inbound Marketing for Small and Medium size Businesses, usually referred to as SMB. Pay special attention to the word Inbound. This is not the traditional Outbound marketing, things like advertising, exhibiting at conferences, Public Relations, press releases, etc. Inbound marketing is doing things to get potential customers to contact YOU. How do you do this? First, read Brian and Dharmesh's book. Second, take a look at the service provided by their company, HubSpot. Third, read Dharmesh's blog, especially this post on how to do Inbound Marketing.
Here are the highlights from the post. read the full post to get all the details.
1. Use Pay Per Click (PPC) advertising to bring customers to your web site. 2. Search Engine Optimization (SEO) is really important to get potential customers to find your site through the search engines. 3. Create interesting, compelling, insightful content on your site that engages and educates potential customers. 4. Use social media to build a community around your product/service. Things like blogs, Twitter, Facebook, discussion groups, etc.
Sounds simple, right? It isn't. It is hard work and requires amazing creativity. Great marketing is just as hard, and just as valuable, as great technology. In this market, with very few exceptions, you need both; great technology and great marketing.
HubSpot announces $16M Series C financing - Led by new investor Scale Ventures (Rob Theis), with existing investors General Catalyst Partners (Larry Bohn) and Matrix Partners (David Skok) also participating. This brings the company's total venture financing to $33 million.
Disclosure: Dharmesh Shah and Brian Halligan, founders of HubSpot, are long time friends. I worked with Brian at Groove Networks, our offices were next to each other. I also know Larry Bohn and David Skok pretty well. I don't think these relationships cloud my judgment about HubSpot or the importance of great marketing…but I thought you should know.
Subscribe - To get an automatic feed of all future posts subscribe here, or to receive them via email go here and enter your email address in the box in the right column. You can also follow me on Twitter @dondodge